Somewhere in the world, sap is oozing from a tree. An insect or perhaps a flower may drop upon this golden liquid and become encased in it. Given the proper conditions and the passing of time, it could become amber.
Amber and the life preserved within has caused fascination since prehistoric times. Prehistoric people took this strange stone, carved it and adorned themselves with it. Amber carvings have been found dating back 9000 years. European and Asian artisans have elevated this art and created objects of beauty and wonder.
A variety of things have became trapped in sap as it oozed from trees. Insects are among the most common inclusions found in amber where as lizards, frogs and mammal remains are among the rarest.
Mommy, tell me more about AMBER

What is amber and where is it found?
Does all amber come from the same kind of trees?
Difference between amber, copal, and plastic?
What has been found in amber?
What can be learned from amber inclusions?
What about those ICKY BUGS

What makes an insect an insect?
Are fossils in amber like other types of fossils?
Language entomology
Visit THE AMBER BAZAAR to satisfy your desire for amber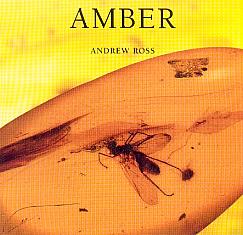 Andrew Ross, of the Natural History Museum in London, has written this book introducing the subject of amber. The book is very informative and easy to read.

I have copies of the book for sale. Price--$13.00 plus shipping
Let me know if you'd like a copy.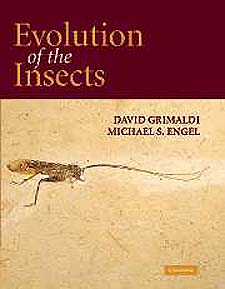 This book was published in May 2005.

Need to get a closer view of the world?

Bob Keller of Bob's Rock Shop has written a review of the Belomo loupe.
To read his review, click here.
The Dead Bug in Amber Club
IN THE NEWS

An article describing my pursuits with amber has been published in a local journal.
Click here
to read the article.


I have collected these new species of insects in New Jersey amber
Brownimencia clavata -- new species of Ant
Archicnephia ornithoraptor -- new species of Black fly
Vianagramma goldmani -- new species of lace bug
Borephemera goldmani -- new species of mayfly
I have been honored by having the last 2 insects I collected on this list named after me.


These insects now reside at the American Museum of Natural History in New York


This is a drawing of the lace bug named after me. The scientific paper describing this insect is found in the book on the right.





Aureofungus yaniguaensis
newly described extinct species of mushroom
Mycologia 95(4),2003, pp.685-687

I was able to purchase this mushroom in amber pictured on the left in the Dominican Republic.
Mushrooms in amber are extremely rare. Only 4 or 5 have been reported.
Dr. David Hibbett of Clark University studied this specimen and determined it to be an extinct, new genus and species of mushroom.
The paper describing the mushroom is published in MYCOLOGIA
I obtained this specimen in 2000 while in the Dominican Republic.
It is now part of the collection of the Museum of Comparative Zoology at Harvard University.
Image taken by Pat Craig

Stingless bee (Proplebeia dominicana ) with orchid (Meliorchis caribea ) pollen
This specimen represents the first definitive fossil of the orchid family.
Nature vol.448/30 August 2007/ page 1042



I want to encourage the amateur collector from 6 to 99 to know that you can make a contribution to science. I am an amateur collector and I've been able to make a contribution to science.

SO CAN YOU!!!
GOOD LUCK







The movie studios of

The Dead Bug in Amber Club
presents
Insects I've Known and Loved
(in six legs)

For your private screening,
Enter Here

Tell me how you like the show.
The files are slow to load.





For the fossil lover who has ever wondered how to DATE a fossil, the answer is
HERE

Questions, questions, questions, how do you think of so many questions?

E-mail your questions about amber and the creatures stuck in amber, I'll try to get an answer for you.